The FREE Selkie Surrender Challenge!
This December I am offering a FREE five day challenge to connect with the mermaids and release all this crap we've been carrying around with us, ready for a new year.
It's called Selkie Surrender and it's five days of connecting with the selkies through meditation, journalling and ritual to release all that stank baggage we have accumulated in the last year, ready for a new start.
Excitement personified!
I love this time of year: I love the long dark evenings, perfect for snuggling up and writing, working, or binge watching Westworld with a hot water bottle and a cat on your lap.
But there is a deeper, more magical aspect to this time of year too.
The time between Samhain and Yule is void space. Samhain was our Celtic New Year, and now we have this dark, fertile, quiet space while we wait for Yule to turn up. It's the season of dying as everything recedes back into the earth, the perfect time to put to rest things you want to release and let go of.
It's like the planning part of a project: the bit where you build your courage ready to start anew, the quiet reflection of what has happened and what is yet to come. The rest before the showdown. The journey to the underworld before the rebirth.
Like that bit in Lord of the Rings where Aragorn and all his mates were waiting at Helms Deep for the orcs to come and start the battle. Everyone's getting ready, making sure they have enough arrows, getting the women and children to safety, standing broodingly on the battlements waiting the start.
I wanted to spend some time really getting into the let-it-go energy this year, mermaid style. I wanted to make sure I took mermaid time out to release what needs to be released while the void was open.
So Hey Presto! Selkie Surrender was born!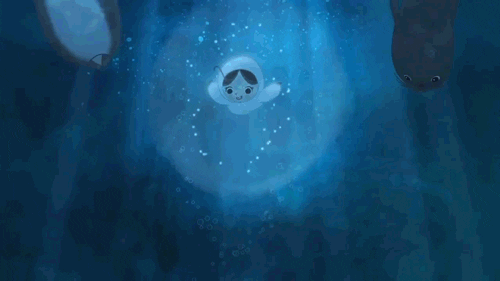 Selkie Surrender is a free five-day challenge focused around releasing what doesn't serve us. We will spend five days together deepening into the energy of the Selkies, the shape-shifting seal maids of celtic legend, reviewing, releasing and ritualising whatever needs to go before the new cycle of the year gets a kick start at Yule. When things get real.
If you sign up (there is a handy sign up form below!) you will be receiving five days of fabulous free content, including meditations, journalling prompts and ritual prescriptions (….and probably some colouring in pages because I 'm digging colouring in right now).
We will have an online Facebook group to team up and share our progress. There will be an activity to be completed every day, PLUS a check-in to complete on our Facebook page – if you do every day of the challenge and check in on our page, you will be in the running to win a FREE scholarship to our next Be More Mermaid archetype course!

"Why Selkies?" You might ask.
Well, honestly, they were the ones that wanted to be involved and gave me all the good ideas, so here they are. Selkies are powerful shapeshifters and have a playful, joyful energy that helps give us a good-humoured perspective on life, which is essential for processing the drama that has been 2016!
So if you'd like to join us – get free stuff and get down to some quality mermaid business – click here to learn more or sign up below in the form!